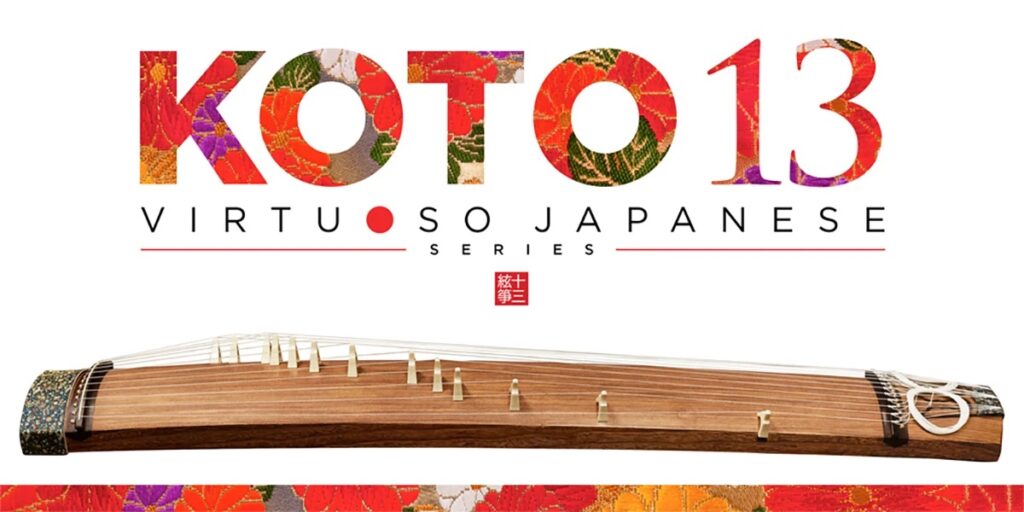 KOTO 13 - Virtuoso Japanese Series
The 13-string koto is one of Japan's most dignified traditional instruments.
Capable of everything from elegant, single plucked notes to aggressive glissandos, the koto boasts a wide range of musical expressions and can add a dash of refinement and grace to traditional Japanese music, modern film scores, and many other genres.
Full Retail Version of Kontakt 5.7.3 (or later) Required. Click here for the process of downloading and installing the product.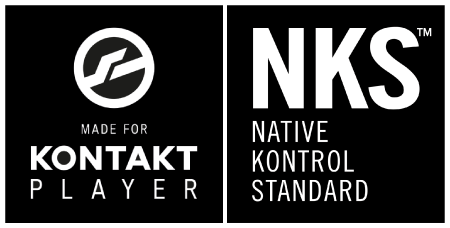 Stunningly realistic 13-string koto reproduction thanks to precise recording and scripting.
Up to eight velocity layers and four round-robin samples for natural sounding dynamics.
26 koto articulations, all key switch selectable.
Five banks of quintessential koto phrases, all key switch selectable.
Plucking control function for full mastery over subtle, natural sounding plucked notes.
Performance mode maps each of the 13 strings to a white key for easy performance of real koto glissandos and phrases.
28 classic koto scales transposable into any key.
User scale mode for creating custom scales for specific pieces.
Stellar tone colors captured in full 24-bit, 96 kHz fidelity (library contains 24-bit, 44.1 kHz samples).
Samples recorded with multiple microphones, and the Direct, Overhead, Room, and Stereo Mix sources can be mixed independently to create unique sounds.
48 built-in convolution reverb settings with individual channel reverb mixing.
You need the Kontakt Full Version.
Pursuit of unprecedented reality
The koto can be used to perform innumerable musical pieces by tuning the 13 strings to different scales. KOTO 13 maps the tones of each scale directly to 13 adjacent white keys. This lets the performer play in the most realistic style possible. For example, you can play a glissando simply by sweeping your finger along the keys and create beautiful arpeggios with multiple-finger trills.
The koto is capable of a huge range of musical expressions. Although famous for showy glissandos, tremolo picking, pitch bends, and vibrato, the koto has many more delicate tone variations, such as the tonal differences created by playing with the thumb, index, or middle finger or even chirashizume pick scrapes.
KOTO 13 contains 26 articulations and six phrase banks, all of which are key switch and MIDI CC selectable.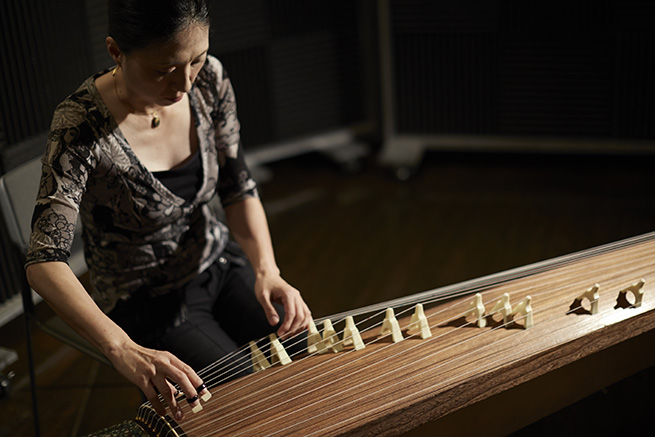 String editor enables independent tuning adjustments for all strings
KOTO 13 is packaged with 28 classic koto scales — such as Hira, Kumoi, Han Kumoi, Nakazora, Nogi, and Gaku — and features a user scale mode to create custom scales for specific pieces. A chromatic scale is also included to perform Western music with ease.
KOTO 13 supports 28 classic koto scales and a chromatic scale. An option is available to drop the first string tuning by an octave.
○28 scales
Hira, Rokuagari, Yonkuagari, Kumoi, Hon Kumoi, Han Kumoi, Kata Kumoi, Nakazora, Akebono, Han Nakazora, Gaku, Han Gaku, Nogi, Hanagumo, Iwato 1, Iwato 2, Han Iwato 1, Han Iwato 2, Natsuyama, Kokin, Shin Kokin, Hira Kinjuu, Nijuu Kumoi, Kumoi Kinjuu, Akino, Ryukyu, Soufuren, Shin Setsugekka
○Key transpositions
G / G# / A / A# / B / C / C# / D / D# / E
○User scale mode
This mode lets the performer customize and store intervals for each of the 13 strings. By creating scales for a particular song or original composition, the performer can incorporate the sound of the koto into any piece of music.
Note: User scales cannot be transposed.
The koto was performed by Miki Maruta for the recording sessions. The recordings took place over several days at a Pastoral Sound Studio in Tokyo, and we took extra care to capture the natural reverberation and full timbre of the instrument in the room. As a result, KOTO 13 reproduces Maruta's perfect tone coloration and plucking expressiveness with all of her superlative musical technique.
Samples were recorded in three stereo microphone positions — Direct, Overhead, and Room — plus a Stereo Mix. Full mixing control is available, with individual Volume, Pan, Reverb Send, and EQ adjustments for each channel. KOTO 13 also comes with a quality convolution reverb for excellent in- instrument sound creation. The parallel output bus outputs microphone channels to individual DAW tracks for finer mixing sessions.
Note: When the Stereo Mix channel is active, multiple microphones are canceled to conserve memory.
【Data size】
9.2 GB NCW format (equivalent to 18.4 GB in wav format)
【Format】
Native Instruments Kontakt 5.7.3 Full (Kontakt Player is not supported)
【System requirements】
Mac OS X 10.10 or newer
Windows 7, Windows 8, or Windows 10
Intel Core 2 Duo or AMD Athlon 64 X2
A minimum of 4 GB of RAM (16 GB is recommended) is needed on both Mac and Windows systems.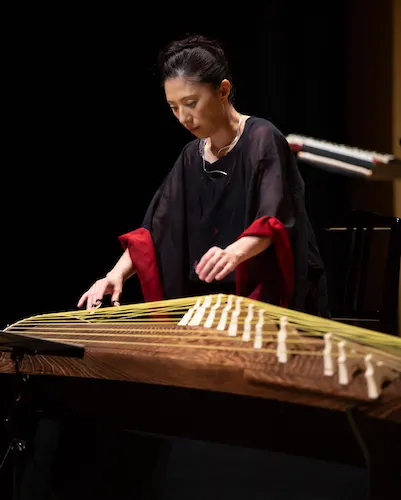 While proficient in an array of musical categories, from classical Japanese music to contemporary compositions, Miki Maruta has always pursued the koto's natural voice. This approach, together with her willing adaptability and inclusive emotional sensitivity, has contributed to her success in collaborating with artists across genres and borders.
After passing the demanding NHK Japanese music audition, she went on to teach at Wesleyan University in the United States as a visiting instructor in music from 1990 to 1992. In 1994, Miki Maruta was selected for an internship in the performing arts at the Agency for Cultural Affairs and in 2009, she performed with Terry Riley and the Kronos Quartet at Carnegie Hall in New York. 
She has released a solo album Tori no yo ni (Like a Bird) on King Records and been featured on numerous artists' CD releases. She even appeared in a TV ad for Ayataka green tea. Miki Maruta has published many popular arrangements of koto music played on a five-note scale.
Miki Maruta studied under Tadao Sawai and Kazue Sawai and graduated from the Takasaki College of Music with top honors. She is currently a professor at Sawai Koto Academy and a part-time lecturer at Mie University.