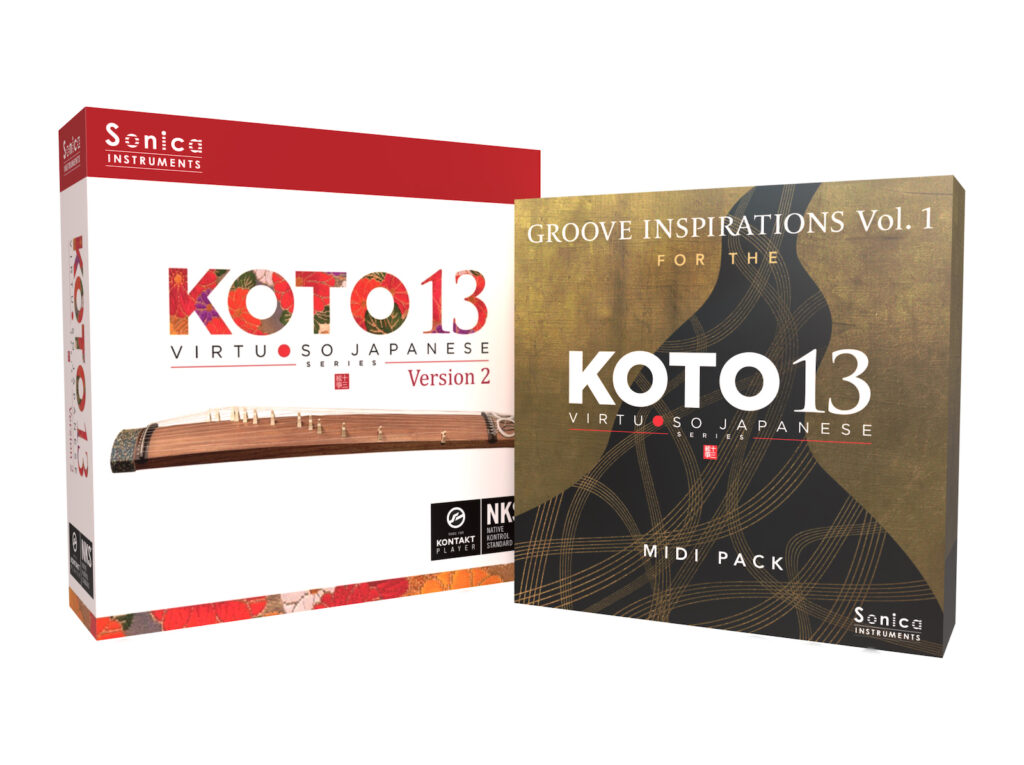 KOTO 13 Groove Bundle Vol.1
$289 → $202
Special sale price available until August 31, 2023
Grab both the KOTO 13 Version 2 library, which faithfully reproduces every nuance of the 13-string koto, and the Groove Inspirations Vol. 1 for KOTO 13 collection of MIDI phrases created exclusively for KOTO 13

Aids your musical productions with MIDI data demonstrating the articulations and key switches that bring out the library's full character and expressiveness

Phrases use the chromatic scale to reproduce traditional koto scales, with the flexibility of MIDI data to easily compose your own phrases

KOTO 13's Groove Browser lets you preview MIDI phrases and import them directly into your DAW 
The 13-string koto is one of Japan's most dignified traditional instruments.
Capable of everything from elegant, single plucked notes to aggressive glissandos, the koto boasts a wide range of musical expressions and can add a dash of refinement and grace to traditional Japanese music, modern film scores, and many other genres.
Data size
NCW 9.2 GB (equivalent to 10.84 GB in wav format)
Groove Inspirations Vol. 1 for KOTO 13
The 13-string koto is capable of simple yet colorful expressions and gorgeous sounds. The phrases in this MIDI pack highlight the intrinsic playing styles and tunings of the koto while being able to blend in beautifully with modern compositions and pop songs.
Over 500 phrases, from classic and well-known koto tunes to phrases unique to this pack

Complete renditions of Rokudan no Shirabe and Chidori no Kyoku

30 original compositions (each with 10 patterns), written in a number of different scales

Glissando patterns that can be used directly in all scales

Original phrases range in tempo from 100 to 160 bpm

All phrases recorded in the chromatic scale